There are regional and local Earth Strike groups all over the UK. These autonomous groups often organise their own campaigns and fight for the environment in their own communities. From protecting local green spaces, to supporting local workers in their disputes with the bosses, to taking on massive multinational corporations.
Earth Strike North of the River
In December 2020 Luke Murphy of the Institute for Public Policy Research (IPPR) said 'As host of COP26 we have the opportunity to lead by example by committing to keep fossil fuels in the ground'.
That is exactly what a group of local people who live close to the City of London thought in 2019 after joining in a year of protest action with Earth Strike on the streets. Knowing that many of the British companies, banks and investment funds that dominate the global fossil fuel market and extractive industries host headquarters right on our doorstep we decided to make London their hostile location. We met to discuss and research the leading corporations in the city and find out how their operations were affecting climate change and the people of the world. We soon learned that there was a long history of concern about most of the big corporations from a variety of human rights groups and environmental protestors over the years. As a result, there is a mass of information about most multinationals and their destructive global impact available on the internet. In addition, there are almost continuous reports on current outrages in the news: the use of child labour in DR Congo, the destruction of the Amazon, pollution of watercourses in Flint, USA and the publicity given by David Attenborough's television series Life on Earth to the massive increase of plastic in the oceans.
Earth Strike – North of the River meetings decided that our task is to turn these facts into actions and organise together for lively, visual, noisy and regular protest demonstrations in our city. We started with a poster campaign 'We Are Watching You' and a group of cyclists left this message outside a number of head offices. At the end of February, we held a large protest outside of Glencore, the mining conglomerate, in June outside of Unilever, which controls most of the world's palm oil production, in September outside of Blackrock the financiers of repression and the arms trade and in June 2021 we will be outside of Rio Tinto Zinc.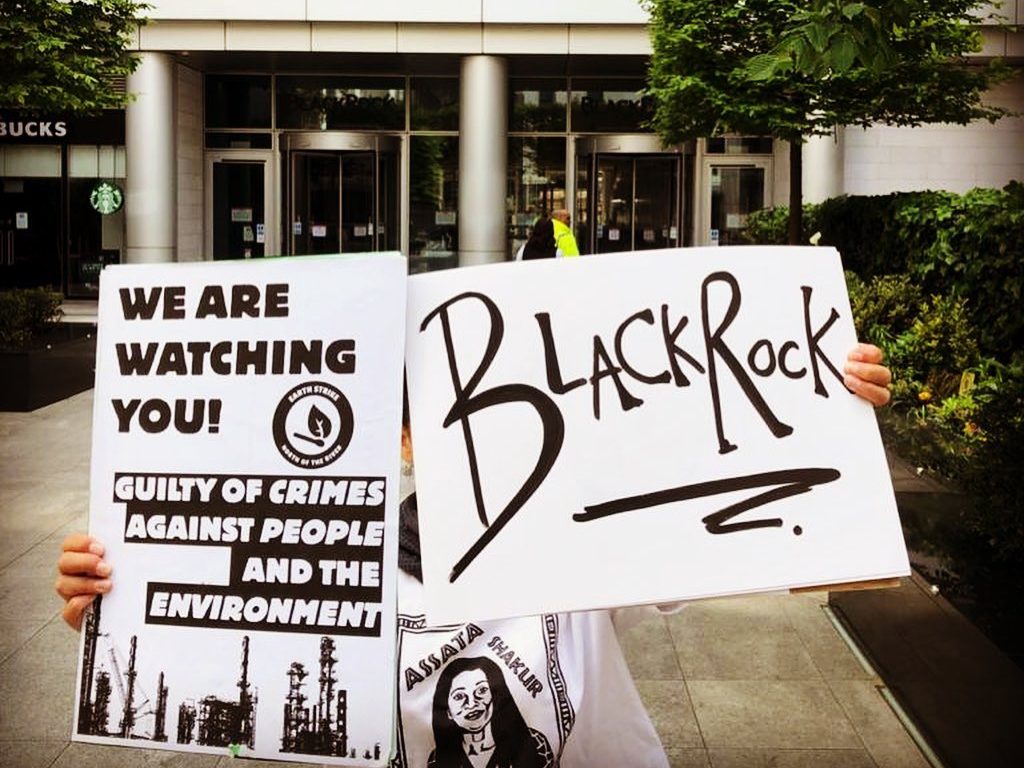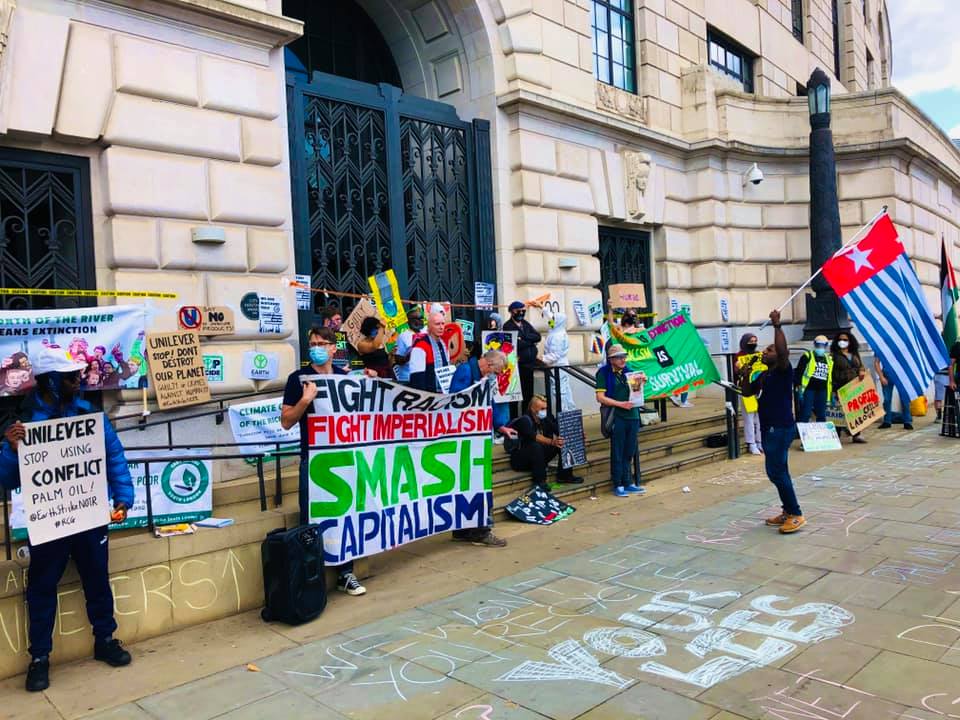 Earth Strike – North of the River is a welcoming and non-sectarian group united by the cause of exposing British imperialism's domination of the world economy. Our activists are from a range of environmental movements including Brazil, West Papua and Bolivia, and organisations including Fight Racism! Fight Imperialism! the London Mining Network and local XR groups. We also organise alongside Earth Strike West London and South London. Our events welcome all those who wish to speak but most importantly actions are prepared by a whole team of volunteers. These include placard-making sessions, leaflet writing and distribution and taking responsibility for social networking informing and inviting all to take an active role in our political work.
At COP26 we plan to take the voice of London to Glasgow to show that the number of activists against multi-national corporations grows and thrives.
Email earthstrikenorthoftheriver@gmail.com to get in touch.
Earth Strike – North of the River protest outside of Unilever headquarters. video contains flashing images.